100% mineral paint with beautiful colour nuances
Product specifications
Fresco lime paint
8-10 m2
8 hours
Indoors
Do not dilute
0 gr
30 gr
Stir before use
Application
Fresco lime paint can only be used indoors.
Apply
Prepare well before you start painting. Then apply a layer of WallPrim Pro, let it dry and continue with 2 layers of Fresco lime paint. You can apply Fresco lime paint with the special Fresco Pro Lime brush. This is a nice big block brush which spreads the paint well over the wall.
In addition to using the Fresco Pro Lime brush, you can also choose to apply lime paint with a clean, grease-free cotton cloth. By moving the canvas over the wall in loose movements, you rub the lime paint on it, as it were, this gives a unique look.
Characteristics
Coloured with natural and organic pigments
Lime matte effect
Colour nuances
Very environmentally friendly
100% recyclable
High coverage
Water vapour permeable
VOC free
Solvent free
Tension free
No synthetic binders
Bacteria and mold repellent
Non-flammable
Little to no odour
Applicable to
Painted walls, newly plastered walls, (non-woven) wallpaper, lime plaster, cement plaster, absorbent natural stone, masonry, aerated concrete, plasterboard, plaster blocks, wood, 100% mineral surfaces and other mineral surfaces.
Finish off
Lime paint is very porous and cannot be washed off, so it will quickly absorb water and grease. Direct water and/or condensation can leave traces of water. Fresco can be protected with Dead Flat Eco Sealer. Note: Applying too thick layers, or irregular application, can lead to white haze (especially on dark colours). You must allow a drying time of at least 7 days for the Fresco before the Dead Flat Eco Sealer can be applied. Always read the technical data sheet of the relevant product before use.
How to apply Fresco lime paint?
Getting started with Fresco lime paint? Watch our instruction video for the right preparation and application!
What is the difference between lime paint and lime matte?
What the difference is between lime matte and lime paint is actually quite simple. Lime paint is a paint based on lime, so it is a type of paint. Lime matte is the effect of lime paint, which is not real lime paint. Lime matte paint is a matte wall paint with a very matte lime effect. So a matte finish.
Lime matte paint is often cheaper than lime paint. This is because the paint only gives the appearance of lime paint, but it is not. Paint with a lime matte effect often does not contain the unique properties that a paint based on lime does, such as full colour nuances, moisture-regulating properties and the repelling of mould.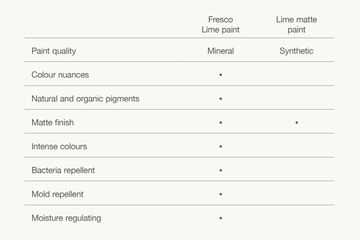 More about Fresco lime paint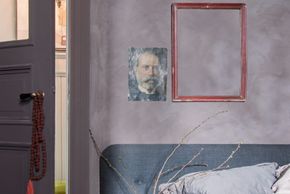 How should you apply lime paint?
You can apply lime paint with the special Fresco Pro Lime brush. This is a nice big block brush which spreads the paint well over the wall.
In addition to using the Fresco Pro Lime brush, you can also choose to apply lime paint with a clean, grease-free cotton cloth. By moving the canvas over the wall in loose movements, you rub the lime paint on it, as it were, this gives a unique look. Definitely worth a try!
It is not possible to apply lime paint airless. You need the manual movement to apply the structure in the paint and to let the nuances come into their own. If you would like to paint airless, it is better to choose a wall paint with an even finish, such as chalk-based paint.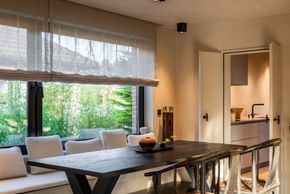 Can you paint over lime paint?
A question that concerns many enthusiasts of lime paints is whether the paint can be painted over. Yes! After drying, Fresco can be painted over immediately with a new layer of Fresco. Do you want to paint over lime paint with latex or another type of paint? Then first apply at least one layer of Fresco Special Fix.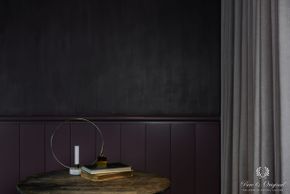 Do you have to thin lime paint? And how do the nuances in lime paint arise?
Thinning Fresco is not necessary. Because Fresco is a natural product, the thickness of the paint will vary depending on the colour. The first layer can show strong colour nuances, these soften after application of the second layer.
The nuances in lime paint arise naturally. The nuances are created by the ingredients from which the paint is created, of which lime is an important part. If you want extra nuances, or even want to play with a more artistic look such as an ombre effect, you can layer different colours of lime paint on top of each other. But you don't have to do anything special for a 'normal' lime paint wall. The colour nuances will be more visible with a dark colour than when the paint is applied in a lighter colour.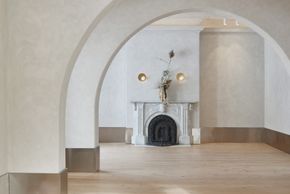 Sustainable and circular paint
During the drying process of lime paint, water and lime combine to form a stone mass. CO2 is an important ingredient to complete this process. Lime paint absorbs the CO2 from the air and thus has the same function as trees in nature: to reduce the amount of CO2 in the room.
Lime paint is 100% recyclable and is therefore a circular paint. In addition, lime paint is breathable, anti-bacterial and anti-fungal, air-purifying and it absorbs nitrogen gases.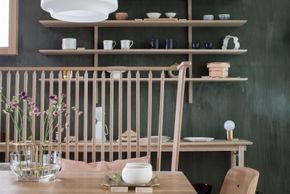 The history of lime paint
Lime paint is one of the most authentic types of paint. It has been around for hundreds of years and is traditionally made by Pure & Original in more than 100 beautiful colours.
Water combined with slaked lime has been a practical solution for protecting and beautifying walls for centuries. In certain regions of Europe, farmers applied lime paint to the stables every year around Easter to disinfect and protect them from moisture. Lime will not close the pores of the substrate, creating a breathable character.
Lime paint is often used today as a decorative wall finish. It has a matte and powdery appearance with a high covering power.
Visit one of our dealers' showrooms. They have applied all types of paint, including Fresco lime paint, to walls. You can immediately experience the appearance and atmosphere.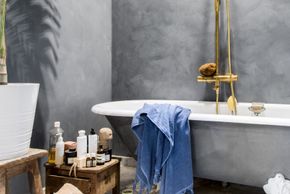 Lime paint in the bathroom and kitchen
Lime paint is breathable, mold and bacteria resistant and is therefore extremely suitable for use in the bathroom and kitchen.
Thanks to the breathable nature of lime paint, it can absorb the excess moisture in the air and release it again as soon as the humidity drops. This improves living conditions and moisture problems, such as fungi and bacteria, are less likely.
Because Fresco has an open structure and does not close the wall, it is difficult to clean. You could gently dust the wall with a clean, non-greasy duster. However, it is recommended to leave the wall alone unless it is really necessary. Because lime paint is sensitive to water, it is not possible to clean a spot. If you want to remove lime paint and protect it against moisture, we recommend the use of Dead Flat Eco Sealer. You can also opt for a different finish such as Lime Soap or Italian Wax.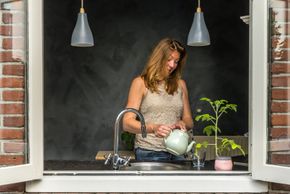 Lime paint on spachtelputz
A reliëf, such as spachtelputz, on the wall? Flat plastering is an option, or just leave it alone! Lime paint can easily be applied to a textured wall such as Spachtelputz. The reliëf, together with the lime paint, gives the wall a special effect.
No other method is required than on a standard wall. The structure wall may require a little more paint because you are painting a 3D object. The structure makes it difficult to paint in strips. That is why the 'criss-cross' method is better to apply to a structure wall. This will create a cloudy effect.
Colour nuances may be slightly less than on a flat wall. Because the light nuances may disappear slightly, the colours will show full and warm. The structure has an almost velvety effect on the wall.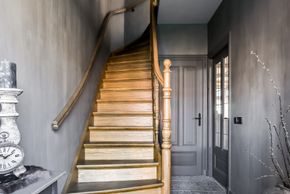 Advantages and disadvantages of lime paint
Lime paint from Pure & Original is a sustainable paint, which is made in an authentic way by people with a passion for the profession. The paint is 100% mineral and coloured with 100% natural and organic pigments, so environmentally friendly. The appearance is extremely matte, your walls get a 'weathered', lived-in look that becomes more beautiful and beautiful as time goes by.
Fresco lime paint from Pure & Original is:
Non-combustible, mold and moss resistant.
Prevents moisture problems, breathes and does not close the wall.
Has a particularly beautiful and unique appearance.
Fresco also does not give off lime paint.
Despite the many advantages of lime paint, it also has limitations:
You can paint over, but always first apply a layer of Pure & Original Fresco Special Fix, after which you can continue with another paint.
Local touch up is difficult and quickly gives colour difference.
Lime paint is very open and therefore quickly absorbs water and grease. It is therefore advisable to apply a sealer for protection when used in the kitchen and bathroom.