Collection de couleurs - Cosmopolitan Chique
Pure & Original est une marque de peinture néerlandaise proposant une vaste gamme de types et de couleurs de peinture, fabriqués dans le respect de l'homme et de la nature. Toutes nos peintures sont colorées avec des pigments 100% minéraux, et la base est également la plus minérale possible. Il n'est donc pas surprenant que nos peintures et couleurs les plus célèbres soient naturelles. La peinture à la craie Classic et la peinture à la chaux Fresco, souvent choisies dans des tons naturels de gris et de beige pour une atmosphère champêtre et chaleureuse.
Mais en plus de ces teintes grisées et naturelles, nous en avons encore plus ! Nous le montrons avec notre première « Colour Collection » : appelée « Cosmopolitan Chic ». Une sélection de couleurs qui se complètent à merveille et créent une atmosphère particulière. Avec cette collection, nous avons choisi de faire attention à la couleur. Une abondance de couleurs pleines et riches. Une variation allant du rose tendre à l'aspect doux et velouté, du violet profond plein de puissance, du rouge lisse comme un miroir, à toute une gamme de nuances bleues à l'aspect béton.
Les couleurs; si doux, profond, plein et intense. Montrez leur meilleur grâce aux pigments naturels. Vous disparaîtriez presque dans les couleurs et voudriez enrouler le mur autour de vous comme une couverture douce et chaude.
Pour tirer le meilleur parti de cette "Collection de couleurs – Cosmopolitan Chic", Pure & Original a travaillé avec une équipe créative en Norvège.
"Alors que nous regardons vers l'avenir et la quantité de couleurs qu'il nous apportera, il est logique pour nous de nous concentrer sur l'application de couleurs plus prononcées. Nous avons toujours eu les couleurs de cette collection inspirante, mais cette fois, nous avons choisi de les faire ressortir comme une déclaration. Une diversité de tons de couleurs qui vont bien ensemble. Il y a la paix et l'unité, sans même un peu de blanc ou de gris.
Skin Powder Old Rose Brown Red Old Wine Praline Ocre Landscape Belgian Wilderness Black Hills Steel Blue Polar Blue
Osez la couleur
The future of colour is bright! We're heading towards the most colourful era in decades, and I absolutely love the freedom and "break all rules" attitude that's increasing in popularity. Old neutrals will eventually be replaced by green, blue and brown, and we'll be seeing a more playful, complex and elegant approach to colouring our surroundings.'
The story of Dagny, colour expert
'I have to admit that I felt like a kid in a candy shop. I've been using Pure & Original's colours for a long time for various projects and the brand is one of the best in the industry when it comes to making high-quality colours that last over time. In a sense, many of them are not "one season wonders", but they have a sense of longevity that I really appreciate. This project, where the objective was to show a new and bolder side of the Pure & Original brand, was extremely interesting and rewarding.
Pure & Orignal has always had an elegant quality to the brand and image material. I wanted to keep the elegant feel, but with a bit of eclecticism and bold colours. The process started with finding the right location – I knew I wanted high ceilings and interesting architectural features with big windows, not to mention the right owner. The owner is important, because I wanted the end result to stay – and to match the person living there. Thankfully, we found a perfect match – the owner's sense of aesthetics matched exactly the look we wanted to go for.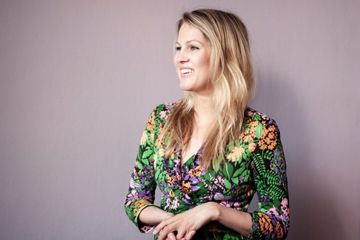 What I love about all of Pure & Original's qualities, is the natural colour pigments. They give the colours a deeper and more intense feeling, while at the same time synthetic pigments are unable to achive that same nuance richness. We're approaching a new colour era, that includes almost the entire colour wheel. The biggest trend is that there are no trends, personal choices and personal style will become the most attractive feature in a home. Here, I wanted to show a more complex use of colour, that inspires the customer to think outside the box, and also use colour on window frames, ceilings and not shy away from the bolder colours – if used correctly, they can also feel incredibly relaxing and calm. One of my favourite paint qualities is Classico, ultra matte, with a fabric-like kind of richness to it. The colours look so good that you want to touch them (no, not kidding, it's really amazing). A new favourite is the Marrakech Walls quality that we used on the kitchen walls. It looks a bit like chalk paint, but it's more like tadelakt, and has a very shiny surface. It's such a great contrast to all the matte paint qualities, and is also incredibly touchable. My aim was to create a kind of "hug the walls" experience, and I think we succeeded in that.
It feels exactly how I pictured it in my head. I never decide on actual colours before we start, but I always have a sense of what I want it to feel like. I had some ideas of what colours to use, but I never decide 100% before I do a tour of the location and talk to the owner. Thankfully, the owner of the house loved the initial ideas and we ended up going for all of the suggestions I made in the first draft (although we did have some lengthy discussions regarding some of them, even making optional palettes). I'm very happy that Pure & Original and the owner ended up loving the campaign look and colour design.
The future of colour is bright! We're heading towards the most colourful era in decades, and I absolutely love the freedom and "break all rules" attitude that's increasing in popularity. Old neutrals will eventually be replaced by green, blue and brown, and we'll be seeing a more playful, complex and elegant approach to colouring our surroundings.'